To the End of Life
The HolyGrail2.0 project introduces a new cutting-edge technology for sorting packaging waste in the future. The project was tested in autumn 2021 at ARC (Amager Resource Centre) in Copenhagen.
Our contribution to the project, the film, "To the End of Life", shows the perspectives of a technology that may provide a future solution to recycling increasing volumes of packaging waste – if we invest and work together across industries and borders.
Digital watermark of the future
In Denmark we have one of the world's best deposit systems, where as much as 92% of all empty bottles and cans with a deposit label are returned and turned into new ones. However, if we are to include the remaining 8%, the Holy Grail – in the shape of a digital watermark on all packaging – can be the lever to channelling some of the bottles and cans that would otherwise end up in the waste streams into a closed loop where they are recycled in a 'bottle-to-bottle loop'.
Behind the project HolyGrail2.0 are a group of companies, including Dansk Retursystem, and the European Brands Association, AIM. Together, we are testing a digital watermark that has the potential to revolutionise the way we sort packaging waste.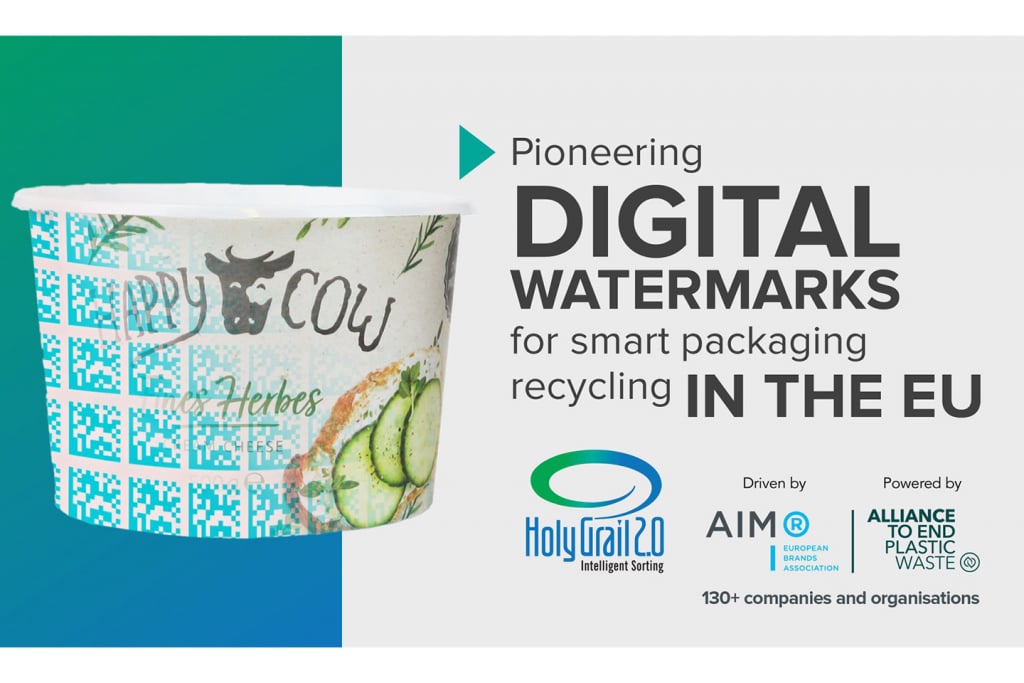 What is a digital watermark?
Digital watermarks are the size of stamps and are spread across the surface of the packaging in a dense pattern. The watermark code can contain a wide range of information about the packaging's different characteristics, such as material, whether the packaging is food contact approved, and whether it can be recycled. The watermark is printed or embossed on the packaging and is invisible to the naked eye but can be easily identified by the camera on a regular smartphone or by a scanner in a sorting plant. This results in a much more detailed automatic sorting of the packaging in the waste stream than has so far been possible.
Far too much plastic waste and packaging ends up in incinerators and in nature.
EU directive on extended producer responsibility for packaging
Not all EU countries have a producer responsibility system for beverage packaging like the Danish deposit and return system – or for any other packaging types, for that matter. As a result, far too much plastic waste and packaging ends up in incinerators or in nature. It is a waste of resources and a threat to our climate and the environment. That is why the EU wants to ensure that much more packaging is collected and recycled.
In 2025, an "Extended Producer Responsibility for Packaging" will be introduced as a result of an EU directive. This means that packaging-consuming companies, including grocery manufacturers and grocery shops, will be responsible for ensuring that the packaging they bring to the market is collected and recycled. This will motivate manufacturers to reduce their material consumption and to design more circular packaging.